Saidpur
is a 400 or 500 year old Pakistani village in built on the slopes of the Margalla Hills which overlook Islamabad, Pakistan.
Saidpur is named after Said Khan, one of the sons of Sultan Sarang, the Gakhar chief of the Potohar region during the reign of the Mughal Emperor Babur. The Emperor Jahangir's memoir,
Tuzke Jahangiri
, mentions him halting at a place "beyond Rawalpindi", on his way to Kabul, which is assumed to be Saidpur. The Capital Development Authority (CDA) of Islamabad is developing Saidpur into a tourist attraction at the cost of about 400 million rupees
People often describe
Islamabad
as
a city without a soul
. Actually, Islamabad's soul is not to be found in the city itself, but on the fringes of the city. In the little hamlets and hills.
Fauzia Minallah
, an Islamabad based artist, has recently published a delightful coffee-table book titled
'Glimpses into Islamabad's Soul'
. She describes many such places in and around Islamabad with long history and heritage, myths and folklore.
One such village is
Saidpur
, situated just off the Margalla Road, hardly a 5 five minutes drive from the upscale neighborhoods of Islamabad. I knew
Saidpur
only as a place one ordered garden-manure from. You didn't have to go there. You just called the guy on his cell phone and he would have a Suzuki-full of manure delivered at your doorstep – literally, sometime. Or you knew
Saidpur
as a place where one bought
bakras
(goats), particularly black bakras, for slaughtering to seek divine help on occasions such as groundbreaking of a house, birth of a baby boy, an upcoming exam or a possible promotion, a serious sickness, or to ward off any evil one suspects might befall him or her. Poor black
bakra
!
I drive past the sign pointing to the Saidpur village almost daily but I never bothered to venture into the village. (Perhaps, because I had not faced the need or an occasion to slaughter a black
bakra
.)
Recently I noticed a lot of development activity in the area. The road to the village was being carpeted with a fresh layer of tarmac; wooded areas were being cleaned of the undergrowth; a rustic fence was erected along the road leading to the village, and haystacks suddenly sprouted along the road to give a rural look to the area.
Actually, the
Capital Development Authority (CDA)
is developing
Saidpur
into a tourist attraction, and is spending a lot of money (nearly
400 million rupees
) and efforts on resurrecting the old village and giving it a quaint look.
A newly built adobe gate welcomes you to the village. Built somewhat in
Pueblo style
, the gate seems to have been virtually lifted from Santa Fe, New Mexico and planted in Saidpur, Islamabad. While the CDA's intentions and efforts to revamp Saidpur are commendable, there is this danger that they might end up reinventing it.
Saidpur
is a very old village —
4 or 5 hundred years old
— with a history and heritage and, of course, its own myths and folklore.
It is nestled in the Margallah hills overlooking Islamabad. Built along the slope of the hills, and gradually creeping upwards, the village presents a picturesque view, particularly in the soft light of morning or afternoon sun.
Saidpur
is named after
Said Khan
, the son of
Sultan Sarang Khan
, the Gakhar chief of the Potohar region during Emperor Babur's time. Emperor Jahangir's memoir, Tuzke Jahangiri, mentions Jahangir halting at a place "beyond Rawalpindi", on his way to Kabul. From his description it seems the place was Saidpur.
According to
Fauzia Minallah
:
"The Persian book 'Kaigor Namah' beautifully describes the place [Saidpur] during the visit of the Mughal commander Raja Man Singh in about 1580. It was a garden resort with a number of natural streams supplying water for drinking and irrigation…Raja Man Singh was so enamored by the village that he turned it into a place of religious worship. He constructed raised platforms, walled enclosures and a number of kunds (ponds) called Rama kunda, Sita kunda, Lakshaman kunda and Hanuman kunda named after the characters of the Hindu epic Ramayana. Saidpur was declared a pilgrim center and Rama kunda was preserved right up to 1947."

The first thing you notice when you enter the village (and that is a big surprise), past a green domed mosque, is a Hindu temple, prominently situated and newly restored and painted. A little removed from the temple, to the left, is a small building with two orange colored domes. A plaque on this building, written in what appears to be Gurmukhi, suggests it might have been a gurdwara or a Sikh shrine. Between the temple and the 'gurdwara' is a neat, 2-storey building that was an orphanage (
dharamsala
) at one time. The temple is mentioned in the Punjab Gazetteer of Rawalpindi district of
1893-94
, which suggests it is over a hundred years old. It's amazing that a temple and gurdwara survived in a village that had no Hindu or Sikh population since
1947
.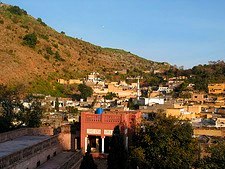 The secret of survival of the temple and the attached buildings, I found, was that soon after the Partition they were converted into a government school, and thus saved from being vandalized. Only recently the school was shifted and the temple and the 'gurdwara' renovated in their original form (a little overdone, though), and the orphanage was converted into a 'gallery' where old photographs of Islamabad, when it was just being built, are displayed.
Saidpur
is also known for making unglazed pottery. According to
Fauzia Minallah
, "The distinct cultural identity of
Saidpur
has always been its pottery and it has always been known as the potters' village." She also mentions two old potters of the village,
Niaz Muhammad
and
Rahim Dad
, who still run their workshops in the village.